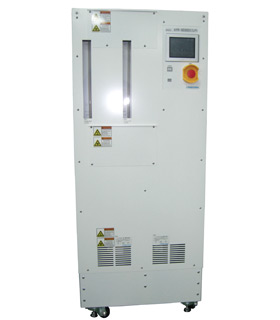 eYR Dual Channel Series
While any of our single channel units can be replicated and made into a dual-channel unit (two channels in one housing with identical specifications), our newest dual-channel unit, the eYR-9030DC(LP) has two different channels targeting two different areas in a process tool.
The Cold Channel is specified to control the temperature of a bottom electrode, while the Hot Channel is specified to control the temperature of the top electrode or the wall of the chamber using either inert coolant or DI water. A dual-channel design reduces overall footprint when compared with two single channel units. In addition, internal parts can be reduced and shared such as the main power breaker. Instead of two breakers, there can be just one main breaker for both channels. There can also be one facility water port instead of two, depending on your facility water temperature and flow configuration.
Basic Specifications
eYR-9030DC(LP)
Controlled Temperature Range
Hot Channel
20℃ to 60℃
Cold Channel
-10℃ to 60℃
Temperature Control Accuracy
From set temperature with constant heat load
±1.0C
Cooling Capacity: Cold Channel**
60Hz
10,000W ±500W @ -10℃
Cooling Capacity: Hot Channel**
60Hz
12,000W ±500W @ 20℃
Heater Capacity @ AC200V
Cold Channel
1800W±100W
Hot Channel
Power Consumption (200/220VAC)
Maximum
22 .5kVA
Current
65A
User Interface
Touch Panel
External Dimensions (W x D x H)
Inches
26 x 38 x 63
MM
650 x 970 x 1600
Standard Communications Protocol
LonWorks
Lam Part Number
778-140687-001
**Conditions: Coolant: 3283
Coolant flow rate: 17LPM @ delta pressure 0.7MPa (4.5gpm @ delta pressure 100psi)
Cooling water: 45LPM (12gpm) @ supply 25℃
If you need convert weight, length and etc, please click HERE to calculate.