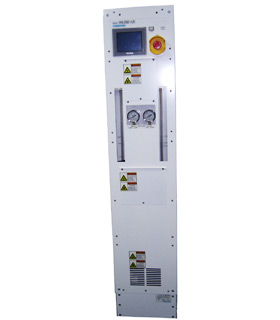 HCL Series
The HCL Series chillers are special application chillers designed to work with an OEM switching manifold. Communications are designed as a single-channel chiller controlling two separate channels, hot and cold, that deliver coolant to the switching manifold. When the process tool tells the manifold to switch over to the other channel, the coolant caught in the switching between channels is mixed with the newly arrived coolant and is deposited in the other channel's coolant tank. Depending on the temperature delta, the chiller will automatically react to the thermal shock of the different temperature coolant and will stabilize temperature. The coolant levels in the coolant reservoirs are constantly changing but will not over flow due to the top overflow piping connecting both reservoirs. There is also a user controlled leveling value should the two reservoirs get too out of balance.
Basic Specifications
HCL201-LD
HCL202-LD
HCL203-LD
Controlled Temperature Range
Hot Channel
40℃ to 80℃*
Cold Channel
-15℃ to 40℃
-5℃ to 40℃
-20℃ to 40℃
Temperature Control Accuracy
From set temperature with constant heat load
±1.0C
Maximum Temperature Delta
Between Hot Channel and
Cold Channel:
60℃
40℃
80℃
Cooling Capacity: Cold Channel**
60Hz
6000W ±500W
@ -15℃
6000W ±500W
@ -5℃
6000W ±500W
@ -20℃
50Hz
5500W ±500W
@ -15℃
5500W ±500W
@ -5℃
5000W ±500W @ -20℃
Cooling Capacity: Hot Channel**
@ 50/60Hz
6000W ±500W @ 40℃
Heater Capacity @ AC208V
Cold Channel
2000W ±200W
1800W±100W
2000W ±200W
Hot Channel
6000W ±600W
3300W±200W
6000W ±600W
Power Consumption (200/220VAC)
Maximum
23.6kVA
17.2kVA
23.6kVA
Current
62A
45A
62A
User Interface
Touch Panel
External Dimensions
(W x D x H)
Inches
22 x 39 x 71
14 x 42 x 71
22 x 39 x 71
MM
555 x 993 x 1797
347 x 1073 x 1800
555 x 993 x 1797
Standard Communications Protocol
LonWorks
*Set range is from 20℃, however, the lowest reachable temperature depends on the cooling water temperature.
**Conditions: Coolant: FC-3283
Coolant flow rate: 17L/min @ delta pressure 0.7MPa (4.5gpm @ delta pressure 100psi)
Cooling water: 45L/min (12gpm) @ supply 25℃
If you need convert weight, length and etc, please click HERE to calculate.